A potent coastal storm barrels up the Eastern Seaboard, bringing rain, gusty winds and some snow to the city.
Luckily, this system will spare New York City from major winter weather.  
Based on the latest model guidance, New York City will see mostly rain and gusty winds.
Rain will linger until early Tuesday morning before we see a changeover to snow, and the rain could be heavy at times.
Snow showers will be light and on-and-off through Tuesday and accumulation won't amount to much, with most areas seeing less than a couple of inches.
Watch out for the wind
Precipitation aside, this storm will produce powerful winds, with gusts reaching between 30 to 40 mph. Although locally higher gusts will be possible, especially farther east out on Long Island.
The bulk of the rain/snow may move out Tuesday night, but winds will continue to stay strong through Wednesday morning.
Winds whipping through the region could damage property, in addition to bringing down trees and power lines, which could lead to numerous power outages.
Coastal impacts
Strong onshore flow combined with large swells will increase the risk for minor-to-locally moderate coastal flooding, especially during times of high tide late Monday night into Tuesday morning.
The National Weather Service has issued Coastal Flood Advisories for the areas shaded in light green in the graphic below.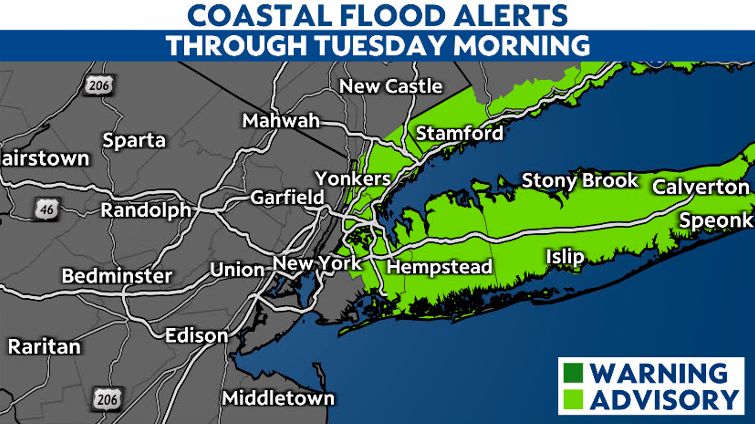 With that, this storm will also generate rough surf and large-breaking waves, leading to beach erosion in some places as well.
Our meteorologists will continue to keep a close eye on the storm's development and will keep you posted with the latest updates and information.
Our team of meteorologists dives deep into the science of weather and breaks down timely weather data and information. To view more weather and climate stories, check out our weather blogs section.


Read More: Powerful coastal storm set to impact New York City this week