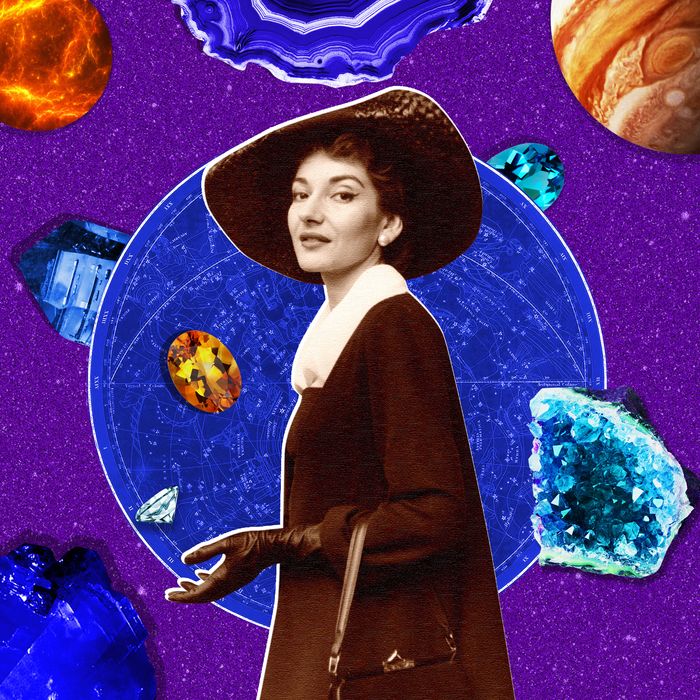 Maria Callas, a Sagittarius.
Photo-Illustration: by Preeti Kinha; Photos: Getty
Neptune, planet of illusion, has been retrograde since the end of June. During this time, you've been forced to face your harsh realities — with no illusions to cloud your judgment or rose-colored glasses to buoy your spirits. It's important to see the world clearly, but that doesn't mean you need to be totally pragmatic all the time. This Saturday, Neptune retrograde will finally end, and when it does, your imagination can run free again. Hold on to the clarity you've found over the past five months, but allow yourself the sweetness of dreaming as well. It's just as important.
If you're happy with the direction your life is taking, then by all means, keep up what you're doing. But if you're dissatisfied and unfulfilled, then this is a good time to consider shaking things up — and not a minor adjustment, a dramatic change, the kind that would surprise all your friends, that may even catch you off guard. You don't have to take action yet. (Mars is still retrograde, so you probably shouldn't.) Right now, it's enough to luxuriate in the possibilities, to let your imagination roam. The future is weirder and more full of possibility than you realize.
When you're trying to turn ideas into reality or transform the world or find your own quiet happiness, you can't rely on desire alone. You've always known this, but the past few months have hammered home the lesson that wanting a big change is insufficient. You have put in the work. Just make sure you aren't overcorrecting. Dreams aren't enough on their own, but that doesn't mean they're not valuable. Don't shy away from wanting extravagantly, from believing the impossible may be closer than you think. Let your dreams be a road map.
When you experience big, unwieldy emotions, you tend to suppress them. Maybe you're trying to be polite, or maybe you simply don't want to deal with the fallout. The trouble is, that doesn't make the feelings vanish; they live on inside your head, where you play out entire imagined arguments, riling yourself up over conflicts that no one but you is actively participating in. They can even linger in your body, making you sick, headachy, or tired. This week, stop! If you can't let it go, then let it out. Give the people who love you a chance to hear you and to respond. It's more fair to all of you.
This week, one of the best things you can do for your mental health is to make sure you're holding yourself to realistic standards. The current astrological landscape means your thinking is unlikely to be terribly precise (blame it on Mercury being in Sagittarius), so don't expect otherwise. And while Mars is in Gemini, you're not likely to be especially productive, so don't get down on yourself if you don't make great strides toward your long-term ambitions. Instead, aim to be creative. Make your friends laugh….


Read More: Weekly Horoscopes for the Week of November 28, by the Cut