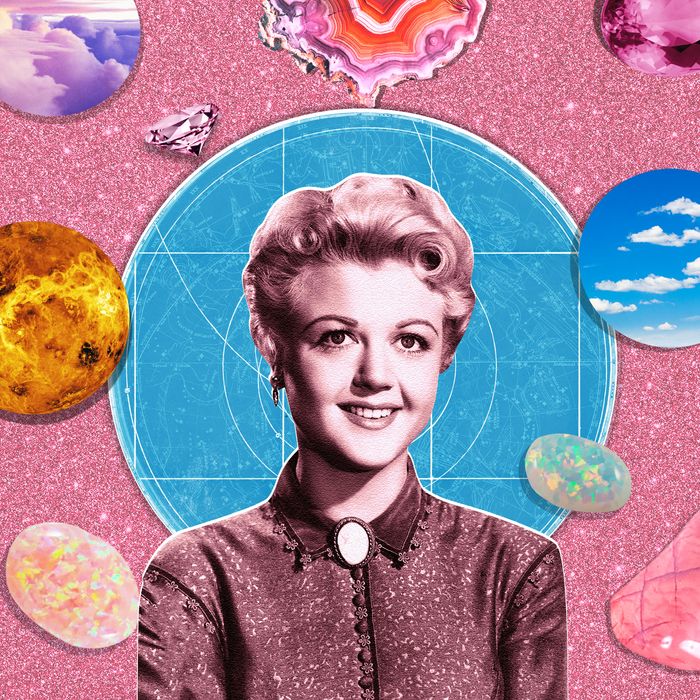 Angela Lansbury, a Libra.
Photo-Illustration: by Preeti Kinha; Photos: Getty
On Thursday night, the sun enters charming, sociable, nonjudgmental Libra. Libra season is one of the best times of the year for enjoying the company of the people around you. It's easier now to stop wishing friends or partners were different and appreciate them for who they are. And, just as importantly, you'll find they extend the same generosity to you. You can use this time to settle problems and build bridges or be less serious: chat, flirt, have fun. Make the most of it. On Friday morning, Mercury (still retrograde for one more week) moves backward into Virgo. Your thinking becomes more precise and analytical, but that doesn't necessarily mean you'll be able to communicate it clearly. Expect misunderstandings to occur, and know that it's not the end of the world when they do. Others might not immediately understand your vision or appreciate your insights. Give it a little time, though, and they will.
Normally you go your own way, no matter what. You're an independent thinker, unconcerned with anyone else's opinion. This week, though, it's important that you listen to the people who care about you when they offer up some criticism. (The ones who don't, you can continue to ignore.) Not because they're wiser than you or their judgment is necessarily sounder. It's simply that looking at the world from a different angle means they see things that are invisible to you. You don't have to heed their advice — the final decision is yours — but you'll be glad to have heard what they have to say.
This week, anxiety may leave you feeling pressured to make big decisions before you're ready. You worry that if you don't make your move this instant, you'll miss out forever, that if you turn down an opportunity (even a bad one), you'll never be offered another. Right now, though, acting rashly will likely turn out worse than not acting at all. If you're ready to move forward, then do; but if you're having doubts, listen to them. This won't be the last time something wonderful presents itself. Don't let anyone (including yourself) persuade you otherwise. The earth keeps spinning; eventually new opportunities will arise.
Yours is a mind that's constantly at work, coming up with plans and contemplating ideas and spinning stories. It's a wonderful trait. It's what makes you creative and curious and fun. But sometimes it also causes you to get in your own way, to overthink things and fixate on your flaws and past mistakes. This week, that negative part of your brain might be especially active, so your job is to refuse to let it win. Your intellect may try to convince you that you're a mess-up, undeserving of kindness or understanding, but it's wrong: You're still worthy of love.
You take responsibility for your actions; when you make a mistake or accidentally hurt someone, you try your hardest to…


Read More: Weekly Horoscopes for the Week of September 19 by the Cut