He spoke in lurid detail of cities overrun by violent crime. He railed against the media, deep state and liberal elites. And he touted his wall with a dire warning: "Millions of illegal aliens are stampeding across our wide open borders, pouring into our country. It's an invasion."
Donald Trump's return to Washington this week was deja vu all over again. The former US president's 90-minute speech at a luxury hotel was eerily reminiscent of the nativist-populist campaign that won him the White House in 2016. But while Trump himself never evolves, his audience this time around was different.
While the America First Policy Institute (AFPI), a rightwing thinktank, was happy to indulge the garrulous showman at its inaugural summit, it also maintained a cold-eyed focus on the future. Over two days Trump's allies and alumni laid out a blueprint for a return to power and a second term more authoritarian, more extreme and more ruthless than the first.
The institute – evidently untroubled by the associations of the phrase "America First" with Nazi sympathisers who wanted to keep the US out of the second world war – has 150 staff, including nine former Trump administration cabinet officials and more than 50 former senior staff and officials. Familiar faces such as Kellyanne Conway, Larry Kudlow and Mark Meadows were feted at the conference.
The AFPI is led by Brooke Rollins, a former domestic policy adviser in the White House, who boasted how the 15-month-old organisation put "boots on the ground" in 32 states on issues from "election integrity to school choice and patriotic education to health care transparency to taxes and spending to fatherhood initiatives to border security to big tech censorship".
The institute has sued Twitter, Facebook and YouTube for alleged censorship, she added, while fighting Joe Biden's vaccine mandates all the way to the supreme court and opposing his Build Back Better plan for climate and social spending.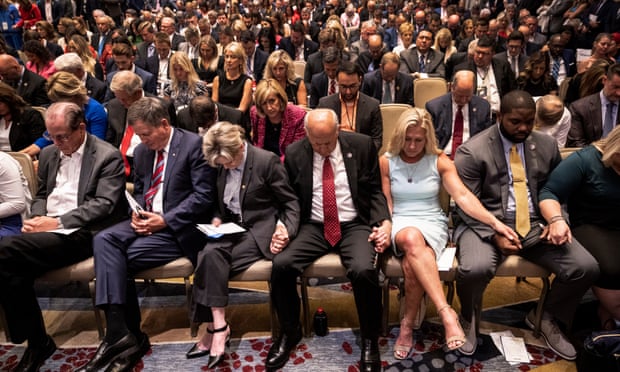 Critics have described the AFPI as a "grift" for Trump hangers-on to make money but others perceive a "White House in waiting", determined to avoid the mistakes of his uniquely turbulent presidency and, through 22 "policy centres", guarantee the survival of Trumpism beyond Trump.
Conway, a former senior counselor to the president, told the Guardian: "It certainly is a way to preserve the legacy and for some people it's also a way to make sure that the entire body of work of the America First movement is all in one place. It's about policies and principles, not about personalities and politics."
She added: "I actually believe, and I've heard Brooke Rollins say more than once or twice, privately and publicly, that we have this in place in case President Trump runs again and, if he doesn't, then it's in place for whomever runs again.
"Whoever the Republican nominee is next time, whether it's Trump or someone else, will run the way all of these Republican candidates for House and Senate and governor this time, with very few exceptions if any, are running…


Read More: America First is laying plans to perpetuate Trumpism beyond Trump | Republicans