Alex Holder, the British documentarian who had substantial access to former President Donald Trump's family, said in an interview published on Monday that Eric Trump was unconcerned about violence that could arise from his family's fraudulent claims about the 2020 presidential election.
Holder was granted access to Trump's family and inner circle in September 2020 during the lead-up to the election, and footage he filmed was subpoenaed by the House select committee investigating the January 6, 2021, Capitol riots. He complied with the subpoena and turned over content that reportedly includes interviews with Trump and his children Ivanka, Eric and Donald Jr., as well as Trump's son-in-law Jared Kushner and former Vice President Mike Pence.
Speaking to The Independent, Holder alleged that Eric Trump did not appear to be concerned about any acts of violence that could have been caused by his father's claims that the election was stolen. (Numerous fact-checkers have disproved Trump's claims and courts threw out dozens of lawsuits that sought to invalidate the voting results.) According to Holder, the younger Trump felt any such response would be justified.
"When I asked Eric about the potential danger of the sort of rhetoric and the sort of belligerence, he felt that it was … fair game in that it … was sort of the equivalent on the other side of the political discourse, or he felt that it was the right thing to do … because the election was stolen," Holder told the British online outlet.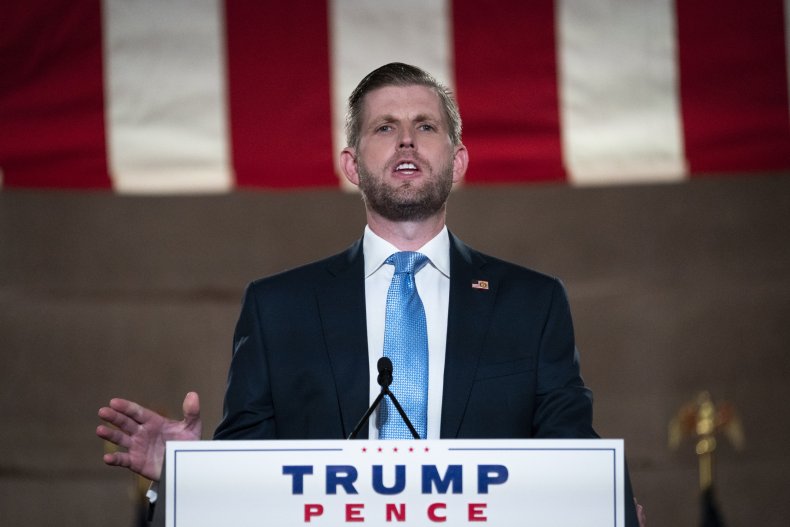 Holder also told The Independent that he had sensed violence would break out as a result of the Trumps' claims.
"The idea of violence, to me, seemed likely because of the fact that when you tell 75 million people that their vote didn't count, and the person that's telling you that is not just the guy you voted for, but also the incumbent president of the United States, the chance of violence was always there," he said.
Last week, Holder also alleged that the former president once canceled an interview they had planned to have in order to speak on the phone with Russian President Vladimir Putin. Holder told Politico in a June 24 interview that the alleged incident occurred nine days before the presidential election while he was traveling with Trump on Air Force One. The call allegedly took place minutes after news outlets reported that Putin had dismissed allegations Trump had made about Hunter Biden.
"The chief of staff sort of came over and said that the interview couldn't happen today because the president was on the phone," Holder told Politico. "And I believe, if I remember correctly, that he said that he was on the phone to the president of Russia, Vladimir Putin, which is why the interview had to be postponed."
Politico reported that a top Trump official…


Read More: Eric Trump Saw Potential Violence From Election as 'Fair Game': Filmmaker