Russia aims to turn Donbas into Mariupol – Zelenskiy
Ukraine's president Zelenskiy believes Russian forces are attempting to destroy cities in the eastern Donbas region in the same way they did in Mariupol.
During a nightly address, Zelenskiy said:
In Donbas there are massive air and artillery strikes.

The goal of the occupiers in this direction remains the same – they want to destroy the whole Donbas step by step. Entire.

Lysychansk, Slovyansk, Kramatorsk – they aim to turn any city into Mariupol. Completely ruined."
Zelenskiy also called for parity on the battlefield in plea for more heavy weapons.
That is why we repeatedly emphasise the acceleration of weapons supplies to Ukraine. Parity is needed on the battlefield as soon as possible to stop this devilish armada and move it beyond the borders of Ukraine."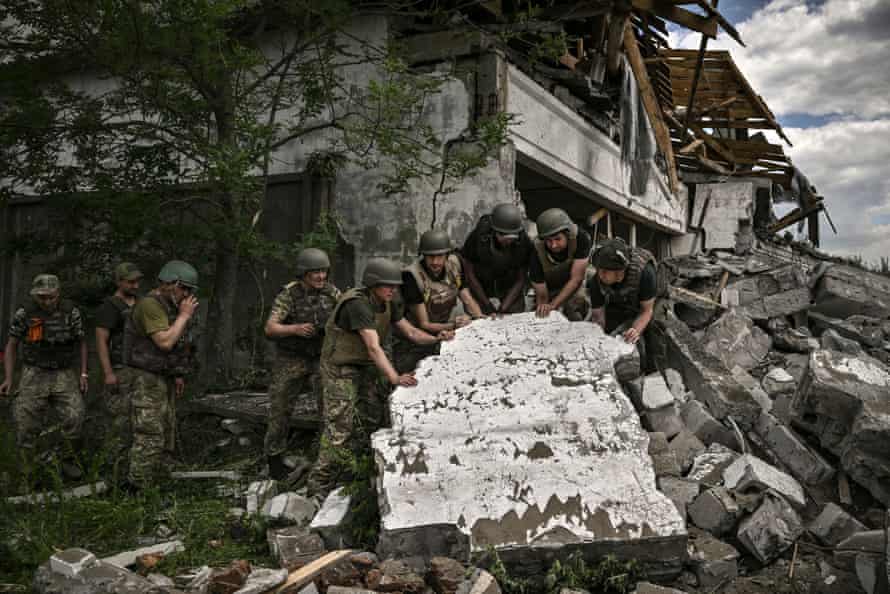 EU leaders to decide on Ukraine candidate status
EU leaders will decide today whether to grant Ukraine candidate status, following a positive recommendation from the European Commission last Friday.
EU leaders in Brussels are expected to sign off on last week's recommendation by the European Commission, the EU executive.
Ukraine's president, Volodymyr Zelenskiy, said he had spoken to 11 EU leaders on Wednesday about Ukraine's candidacy and will make more calls on Thursday, believing all 27 EU countries would support Ukraine's candidate status.
"We deserve it," he told crowds in Amsterdam via video link.
That is a very crucial moment for us, for some people in my team are saying this is like going into the light from the darkness.

In terms of our army and society, this is a big motivator, a big motivational factor for the unity and victory of the Ukrainian people."
Expectations for a yes have grown since four EU leaders, including France and Germany, which had been perceived as among the most lukewarm, visited Kyiv last week in a show of support.
Zelenskiy filed an application to join the EU five days after Russia's attack began. On a day when blasts were heard in Kyiv, he called for "immediate accession under a new special procedure". While the initial response from about 10 EU states was deeply sceptical, opposition has fallen away, although questions remain about the long road ahead.
Ukraine has been seeking EU membership since the 2004 "orange revolution" and more insistently since the 2013-14 Maidan protests, when the pro-Kremlin president, Viktor Yanukovych, was ousted after he refused to sign an association agreement with the bloc.
Granting Ukraine candidate status to join the EU would be a historic decision signalling to Russia it can no longer claim a sphere of influence over its eastern neighbour, Kyiv's ambassador to Brussels has said.
Vsevolod Chentsov, the head of Ukraine's mission to the EU, said Russia's war had united Kyiv with the bloc, while ending what he called a "mistake" about whether his country could belong to the union.
A survey published this week by the…


Read More: Russia-Ukraine war: EU leaders to decide on Kyiv bid; Russia aims to turn Donbas